Update 1/18/2013
Hi All,
We've got a few updates coming to your Twines, and we wanted to give you all a heads up of what you can expect soon. We're sorry for the extended silence. We intended for the community forum to be a place for you all to share your ideas and thoughts without interference from us, but we have been listening, and from your comments we've realized that we do need to play a bigger role. In the past, communications have been spread among us all, but it will now be my main job. You can expect more regular updates here in the future about what we're up to and what improvements we're working on, and I'll be checking in a few times a day, but the best way to get your questions answered is to email us at help@supermechanical.com.
Right now, we're working hard on several things, but our priorities are the vibration sensor and improved battery life. Vibration is currently in beta testing and will be released in 2 weeks, along with small power consumption improvements. This will be firmware v1.2. Here's a preview of what it will look like on your dashboard: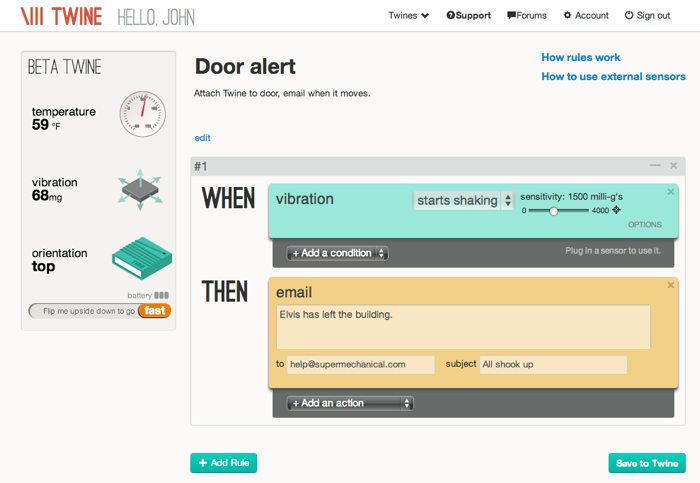 Bigger power consumption gains are in development. In the meantime, you can use lithium batteries to get the most out of battery life (or power your Twine via
micro USB
). You can also get better battery life if your Twine is closer to your router; it's less work for Twine's radio.
We're still solving a Fahrenheit/Celsius conversion bug. If you aren't getting notifications from Celsius rules, set your Twine to Fahrenheit while we fix it.
We're busy making Twine meet and exceed your expectations. We know you've been waiting a long time for these updates, and we appreciate your support as Twine grows.
Christina & Supermechanical